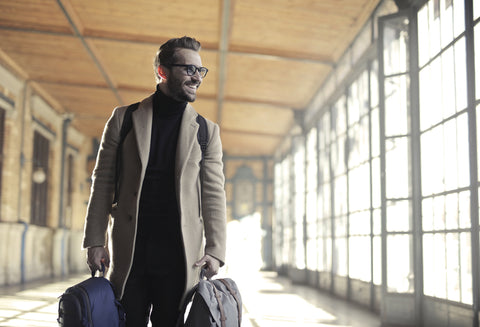 How to travel Light When Traveling Internationally
It certainly makes sense to travel lighter these days.   Many of the airlines are charging additional fees for overweight luggage.  They have a 50 to 75 lbs. weight maximum per bag.  
With large suitcases weighting up to 20 lbs. empty that does not leave a lot of room for clothes and other assorted items.  It's time to learn to travel more efficiently.
Lighter Bag
To start with, look for lighter weight luggage or downsize to a smaller sized piece.   It's not practical to take those oversized 30" or 31" suitcases.  Plan to start with no larger than a 29" case.  
Then look for the lighter weight brands.  Many pieces of luggage, that are now advertised as "light weight", are in reality no lighter than the old pieces.  Make sure you actually lift the case before purchasing.  You do not have to sacrifice quality either, as there are many truly lightweight cases available in the better fabrics with the better wheel systems.
Bag type
On the surface it appears like an unnecessary discussion but could make a considerable impact on your trip. If the trip is going to be a long and arduous one, perhaps a hard-sided luggage will be a better companion. Choose according to requirements not only on fashion dictates! When purchasing bags for a trip, look for in-built characteristics like:
hanger rods
Reverse-fold designs
Packing fixtures
extra pockets
Wet packs
Retractable wheels
locks that do not dangle too much
Size that allows the luggage to be carried for its intended use. For instance, if it is a handbag then it should fit the flight overhead luggage location.
Limit Items
Try to limit the number of pairs of shoes you are taking.  Shoes and sneakers are much heavier than clothing.  Check out the many travel accessories available.  Take along travel sizes of toothpaste, shampoo, and all to the other assorted sundries you cannot live without.  
If you are packing a hairdryer, take one that is compact and designed for travel.  Also think about bringing a small travel steamer instead of an iron.  These are lighter weight and work quite well, steaming out all the packing wrinkles quickly and efficiently.
Essentials
Instead of bringing along a heavy raincoat, purchase one of the super light umbrellas that are now available.  These are made of airplane aluminum and weigh only a few ounces.  There are also fun foldable rain slickers available that are lighter than a raincoat would be, and they work well in an emergency.
The Business of Packing
The quickest steps to packing are:
Clear a flat surface for packing and open your packing cases on it, one at a time.
Stack all the material to be packed next to the bag. Make separate stacks for separate bags.
Place heavy objects like shoes, toiletries, and hairdryers at the bottom of the case. You can call up the hotel you are staying over at to confirm if they provide things like hairdryers and avoid lugging too much.
Next, use wrinkle-free clothing like jeans and lingerie to cushion heavy items.
Now, start with the heavy clothing-suits and dresses. Keep the shoulders of the suits straight, next to the hinge of the bag. Fold clothes over each other to avoid creasing and wrinkling.
Check the weight
Weigh your case before you go.  Stand on the scale with the suitcase, then deduct your weight.  Or there are also several portable scales available that you can hook to the luggage and lift.  This will save you the arguments and the surcharges you'll get at the airport. 
There's also new luggage that just became available with an actual scale built into the top of the suitcase.  Of course, that will eliminate the excuse at the airport that
(a) you did not know or
(b) that it weighed less at home!
Plan items
Plan your wardrobe with "mix and match" items.  One pair of slacks can be teamed with several different tops.  There are also lightweight reversible jackets that can be dressed up or down.  These are very lightweight and completely wrinkle free, so they are a natural choice.
If you plan on doing shopping, there are folding bags you can use to pack your purchases for the trip home.  This way you will not overload your luggage.  Most trips allow for 2 bags per person, as well as one carry-on and one personal bag.
Lists, Lists, Lists
All destinations require different things to be packed. Once the place is fixed, make a list of things you and the family will require. You might want to make separate list for every family member to prevent missing anything essential.
Lists expedite packing and help you fill up luggage claims in the event of lost bags! However, beware of too numerous lists. They could confuse you and make life difficult. Also, keep the final list in your hand baggage or wallet where you can refer to it in the event you need it.
Eat local cuisine
Eating can minimize travel stress! So, treat yourself to local foods and stay away from your usual staple of burger, spaghetti and cola. Be adventurous and have fun in local restaurants. Before leaving, you can ask people who already traveled in the country if they can recommend any restaurants. Hotel personnel can also help you immensely. When you're there, don't hesitate to ask for the house specialty and enjoy!
Keep a travel journal
Writing down your experiences during your travel will not only preserves the memories, it will also help you relieve stress. Describe the sights that you have seen, the places that you have been to, even the people you have met. Get small keepsakes from each experience, a napkin from the restaurant where you have eaten, a receipt from a souvenir shop, a bus ticket going to a special place. This will keep the magic of your travel with you.
Lastly, travel light. Coordinate outfits to fit in with the locals wherever you travel. Don't be too flashy. You don't want to draw too much attention to yourself. Mark off your luggage well to avoid it being mixed up and to make out it quickly on luggage conveyors.