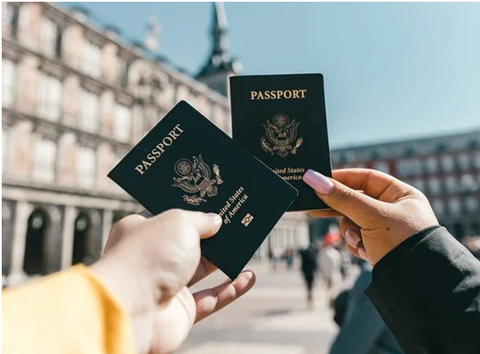 Frequently Asked Questions About European Travel Adapters
When you're traveling overseas, chances are you're not packing light. Whether you go abroad for business or pleasure, it's always best to be prepared and being prepared means traveling with your vital electronic devices. 
For most of us, these are our phones, tablets, and laptops, although others might take along e-readers or other similar electronics. Others yet might need to bring along rechargeable hearing aids, hair dryers, toothbrushes, and similar personal devices. 
But one thing that a lot of travelers forget - especially first-time overseas travelers - is that countries around the world don't use the same electrical outlets that we do. 
Case in point: outlets and electrical service. If you're traveling to Europe, you don't want to discover that they utilize different voltages and have totally different outlets, when you check into your hotel room! 
It's better to be prepared, and for that, you'll need a European Travel Adapter like our PAK-EU European Adapter Kit.
What Types of Outlets Do European Countries Use?
First things first, the outlets in European countries are totally different from the ones we use here in America. One of the reasons for this is that the styles we use are considered dangerous by some electrical authorities. 
Types A and B are common in the United States as well as Canada and Mexico. Japan uses them too, however, they are considered dangerous since the prongs can still be removed from the electrical outlet sufficiently to contact them, presenting a risk of electric shock. That said, there are numerous other configurations of electrical outlets that are used across Europe, as well as the rest of the world. 
Travelers to the United Kingdom and Ireland will need an adapter that can handle what are known as Type G outlets. Type G outlets are three-pronged, like our American Type B outlets, but the prongs are thicker and the third prong is at the top of the outlet, instead of at the bottom. 
Another common outlet configuration commonly used in Europe is known as Type E. Type E outlets only have two round prongs. These outlets are common in several countries in Europe, including France and Belgium, as well as in Slovakia and Poland. 
There are two more types of outlets that are widely used across many different European countries, which are Types F and C. Type C outlets, which are common in many different countries in Europe, only have two prongs. The same can be said for Type F outlets, which are widely used across Europe (notably Russia) and also have two round prongs. 
Be aware, however, that there are many other different configurations in outlets around the world, some of which are also used in Europe. For instance, There are two separate types of outlets, known as Type K (three round prongs) and Type L (three round prongs, in a straight row), which are only used in Denmark and Italy, respectively. 
Travelers to Liechtenstein and Switzerland should also be prepared to encounter another type of outlet that is only found in those countries, known as a Type J, which, though it has three prongs, has an odd, elongated hexagonal shape.
In Which Countries Will the PAK-EU European Travel Adapter Kit Work?

The Ceptics PAK-EU European Travel Adapter Kit will work in a wide range of countries around the world, particularly in Europe. In Europe alone it supports electrical usage in over 45 countries, including: 
Albania

Andorra

Armenia

Austria

Azerbaijan

Azores

Balearic Islands

Belarus

Belgium

Bosnia & Herzegovina

Bulgaria

Canary Islands

Croatia

Cyprus

Czech Republic

Denmark

England, Gibraltar, and the Channel Islands

Estonia

Faroe Islands

Finland

France

Georgia

Germany

Greece

Hungary

Iceland

Ireland (and Northern Ireland)

Isle of Man

Italy

Kosovo

Latvia

Liechtenstein

Lithuania

Luxembourg

Macedonia

Madeira

Malta

Moldova

Monaco

Montenegro

The Netherlands

Norway

Poland

Portugal

Romania

San Marino

Scotland

Serbia

Slovakia

Slovenia

Spain

Sweden

Switzerland

Ukraine

Wales

Vatican City

 
In addition, international travelers to Turkey (which uses Types C, E, and F outlets) can use our European travel adapter kit. 
On top of being useful for travel to these countries, our travel adapters are also compatible with outlets used by a wide range of countries throughout North and South America, the Caribbean, Asia, Africa, and Oceania that use Types C, E, F, and G outlets. For a full list of countries supported, please visit the link above. 
Do European Countries Use the Same Voltage Service as America?
No, European countries, like much of the rest of the world, use 220V service. This is different from America where 110V service is the standard. Using electrical appliances designed for 110V service with 220V service requires a voltage converter, or else the device or appliance may burn out from overheating the connections. 
Our PAK-EU European Travel Adapter Kit does not convert voltage, so if your charging device is not dual-voltage (some phones and laptop chargers are) then you should purchase an appropriate voltage converter before traveling. 


What Else Does the PAK-EU European Travel Adapter Offer?
The European plug adapter kit is not just a great universal travel adapter since it supports travel to Europe. Additionally, it has a number of user-friendly features. 
It is designed in the U.S.A. and is simple, safe, easy to use and can be used to charge up to four devices. It has two U.S. standard outlets that accept standard 2 and 3-prong NEMA 5-15 plugs. In addition, it also has two USB ports - a USB-A and USB-C port - so it's ideal for rapid-charging smartphones, tablets, and other similar electronics. 
It also features several safety features to protect your electronics, including a voltage indicator (LED signal, one light indicates 110V service and two lights indicate 220V service) as well as a grounded connection from the input to the output. 
Additionally, it is small and light, making it ideal for travel. As small as 1.93"x1.6"x2.18", it's easy-to-pack and perfect for carry-on luggage and other small bags. It is also CE-certified, RoHS compliant, and comes with a 2-year warranty. 
It's a must-have for all European travelers. To learn more about this adapter kit, please feel free to get in touch with us at 1-877-260-1301.