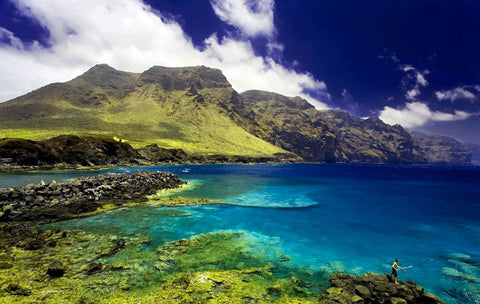 The Canary Islands
Considered the bridge between the continents of Africa, America and Europe, the Canary Islands consists of 7 large islands, Tenerife, Fuerteventura, Gran Canaria, Lanzarote, La Palma, La Gomera and El Hierro. There are also several smaller islands and islets, La Graciosa, Alegranza, Isla de Lobos, Montana Clara, Roque del Oeste and Roque del Este. The Canary Islands are just off the coast of North West Africa, about 100km west of Morocco. Despite the fact that they're geographically part of the African continent, they're recognized as a nationality of Spain and are therefore European.
There are so many things to do in the Canary Islands! Fuerteventura is a windsurfer's paradise. La Gomera is home for trekkers and in Tenerife, you can climb Spain's highest mountain. There are also three water parks and eight theme parks in Gran Canaria. (I'm thinking family destination here!). The best beaches on the island are the beaches of Guigui and Las Canteras. In Lanzarote, visit volcanic vineyards and lava tunnels. La Palma has amazing stargazing and you can swim in seawater pools. One of the smaller islands, La Gomera offers black sand beaches and the Mirador de Abrante which is a boxed-in glass walkway that juts out seven meters into thin air with a spectacular view. El Hierro is the smallest island but here, the government is trying to get everyone to drive electric cars and even offers free wi-fi throughout the island. There isn't a lot to do on this island, but there is zero crime and a sense of calm here. As you can see, there are so many things to do in the Canary Islands, it would be hard to only visit one island!
Speaking of free wi-fi, if you want to take advantage of it, you will need to know about the electricity on the islands. The Canary Islands have 220-volt electricity, meaning unless your computer or appliance is dual voltage or designed for 220 volts, you will need a converter. Ceptics has the answer for this. Use the Ceptics
3 Prong International Travel Adapter
(GP-5PK). This will have adapter plug type C, E, and F which you will need on your travels to the Canary Islands.
Each island is so different and each also has its own culture and experiences. You will have to decide what island fits you best. All of the Canary Islands are considered safe to travel to and the crime rate is extremely low. As far as the weather, Tenerife and Gran Canaria are the warmest islands with average daily temperatures hitting the low 70s, about six hours of sun a day and only six rainy days a month. Lanzarote and Fuerteventura can be distinctly cooler – mid-60s – and are prone to strong winds.
The Canary Islands have purpose-built resorts. Driving is also easy as locals are said to be used to tourists driving on their roads. Just remember, drive on the right-hand side of the road and watch for scooters and mopeds. Most of all, enjoy all the Canary Islands has to offer. There are always new activities to enjoy in the Canary Islands!