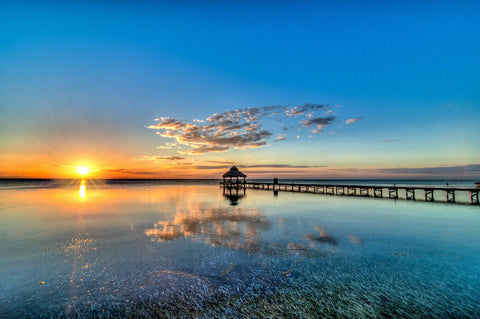 The Beautiful World of Belize
Now that summer is upon us, many of us have travel plans in mind. If you are still thinking about it, take a look at our Belize travel tips and advice. While it is true summer is considered their "rainy time," the truth is, it usually rains in the evening/night and the days are beautiful, sunny and warm with an average temperature of 81 degrees May through September.
The mountain area is usually a little cooler with an average of 72 degrees. English is the official language of Belize but Kriol is the language that all Belizeans speak. Spanish, African-based Garifuna, Maya, Kekchi, Mandarin, German is also what you will hear as well as shortened English words and lots of gesturing. It is said the people of Belize are very friendly and is a true melting pot of 10 various cultures. Belize is a country with only 250,000 people.
Since summer is considered their off-season, there are great deals to be had and no lines for waiting for restaurants and such. The hotels during the summer have some great rates as well. A food staple in Belize is rice and beans with beef, pork, chicken, lobster, shrimp or game meat. Also popular is the rum cake and to drink, a cashew or craboo wine. These wines are homemade and can be quite potent. Ceviche (made from conch or shrimp and combined in a mixed dish) is considered good, too.
There are many interesting things to try when traveling to Belize. When it comes to power for your laptop or other things, Belize uses 110 volts, 60 cycle electricity, same as the US. Plugs are typically the 2 pronged flat type so US travelers will not typically need a converter or adapter. Outlets rarely have 3 holes so if your device has a third prong (such as a laptop), bring an adapter. You will need Type G for this. Ceptics has a quality Type G adapter available in a pack of 3. With the use of this adapter, you won't have to worry about any of your three-prong electronics. With that out of the way, you are now free to enjoy Belize in all of its glory. Take time to enjoy horseback riding, Xunantunich, Big Rock Falls, Altun Ha, Cave Tubing, the Tikal Mayan tour and so, so much more.
Belize is also a great honeymoon destination and many people even travel solo. There is something in Belize for everyone! Just keep one thing to keep in mind during your summer travels, besides the Ceptics adapter, don't forget the sunscreen!
Happy Travels!