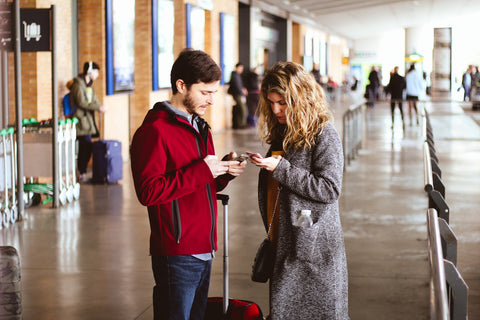 To Zip Tie or Not to Zip Tie, That is the Question
According to the Transportation Security Administration (TSA), yes, you can zip-tie your luggage shut so no one would be able to simply unzip your luggage and go through it. You are allowed to zip-tie it because the TSA can snip it open if they need/want/desire to go through it for some reason. Now, you can buy these zip-ties cheap enough - I even saw them at the local dollar store. However, there are reasons why you shouldn't.
The down-side to using zip-ties is if the TSA does indeed need to open up your luggage and go through it after it is snipped open, they are not going to zip-tie it shut again for you. Because of this, the rest of your trip the luggage is exposed to theft. So, while this is a cheap option, it isn't necessarily the best choice.
Another option is to buy one of those little cheap locks (my oldest daughter uses them for her diary), but this is still not the best option. The TSA screens every passenger's baggage before it is placed on the plane. When this occurs, if the luggage is fitted with any lock other than those approved by the TSA, they will destroy whatever lock is nonapproved in order to gain access. So, if your luggage isn't protected and ends up in Aruba instead of Argentina, who knows what will happen to your things! As you can imagine a lot can happen between travel destinations. One time, a lady accidentally took my bag (it contained all shoes!) and left me her look-alike bag full of all of her vacation clothes. Mine was an easy fix until I got my shoe bag back; I simply wore the sandals I had on at the time. I am not sure how she got by for the next two days until the airlines got in touch with her and got her bag back to her.  Luckily, I noticed it before leaving the airport or I would have had complete access to all of her things.  Another good reason for a lock.
The best option when traveling is to purchase a TSA accepted lock. In the United States, the TSA requires access to luggage without the passenger being present. Using a TSA accepted lock allows travelers to lock their luggage but still allows TSA to unlock and then relock that same luggage. This works out best for everyone. Your luggage will stay safe and TSA can do their job to protect travelers.
Luckily, Ceptics can help with this. They have preapproved TSA locks for your traveling needs. Ceptics TSA approved combination locks come in a set of 3 for $14.99. The 3-pack includes colors in black, red and blue.  You can set the combination and change it accordingly.  TSA can lock and unlock it as they need to do so. It's a win-win situation. So much better than zip-ties!
Happy Travels!