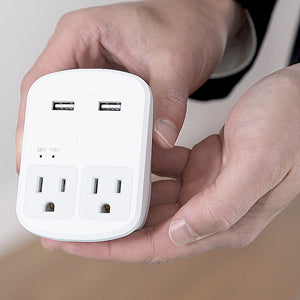 Travel Adapters Getting from Here to There Without a Global Standard
We all know that traveling has gotten harder over the years. We hurry up to wait in long lines and squish everything we need into suitcases with weight limits. We then board planes without any leg room and it is inevitable that the kid in front of you will put his chair back - leaving you with even less room (if that is even possible). To make it even worse, the credit card machines go out so they say they will give you free adult beverages but limit it to one.  Maybe it's just me, but I don't need one more inconvenience when I travel.  After all, I'm there for a reason and I just want to get from Point A to Point B emotionally intact.
The best way to do this is to prepare ahead of time.  For example, there are about 12 different types of power sockets around the world. With a little-advanced planning, travelers can now plug in I Phones and computers without much effort. Here's where the planning takes place, however.
For those of us who live in North America, it is important to remember that adapters only convert plugs, not voltage. What this means is that it will likely only convert the layout of the pins on your charger or appliance, not the voltage coming out of the power socket.  Outside of the US, the Caribbean, Central America and a few other places, the main voltage is 220-240 volts. This is double what it is for us in the US. If our things aren't equipt to handle this change in voltage, we could end up with non-working things. This could ruin the trip!
To avoid this, you can do two things. You can buy a small, regional adapter for your area. You can also buy a large universal type that covers almost everywhere. But, it is important to remember a couple of things before you decide. The universal type is great if you do a lot of extensive travel all over the world. The drawback is the size. You still have to pack it all over the place and the weight and bulkiness of it tend to fall out of the wall socket. The single versions are usually less expensive and won't block the other socket as well.  The point here is to make sure you are purchasing the best item for your travel needs.
Ceptics is prepared to help you in any case. Their products are of superb quality and are built to last. From universal adapters to single region adapters, they can meet those needs for you and save you time and effort on your next travel experience.
Happy Travels!