Voltage Converters
230W Travel Voltage Converter - 2 Outlets + 4 USB QC 3.0 - 220V to 110V (PU-200X)
Up to 200W Step Down Voltage Converter (use N. American 120V electronics in abroad 220V countries)

Connects up to 6 Devices: 2x Outlets, 4x USB

2x US standard outlets (max up to 200W)- Accepts 2-prong and 3-prong N. American plug (NEMA 5-15p)

4x USB ports (max up to 32W) - with one QC enabled port with max. up to 15W to fast charge QC enabled USB devices and three standard ports up to 2.4A each ideal for smartphones, tablets, iPhone, iPad and more

Safety enabled USB ports ensure surge protection, short circuit protection and overload protection to keep your devices safe while automatically matching the maximum charging current of the connected devices.

Includes: Power cord with Type C plug, Adapter attachments: Type A, G, I and Soft carry pouch

Silent cooling fan to prevent it from overheating

Power switch soft led light

Cord length: 4 feet

Max. voltage up to 230V

Weight: 0.69 lbs

Dimensions: 4.8 x 3.1 x 1.5 inches

1 Year Limited Warranty included
Accepts
Output
Grounded
Surge Protection
Type A is supported in following regions:
North America
Anguilla
Antigua & Barbuda
Bahamas
Barbados
Belize
Bermuda
British Virgin Islands
Canada
Cayman Islands
Dominican Republic
El Salvador
Guatemala
Haiti
Honduras
Jamaica
Mexico
Montserrat
Nicaragua
Panama
Trinidad & Tobago
Turks and Caicos Islands
United States
US Virgin Islands
South America
Aruba
Bolivia
Bonaire
Colombia
Costa Rica
Cuba
Ecuador
Guyana
Puerto Rico
Saba
Venezuela
Asia
Africa
Oceania
American Samoa
Guam
Mariana Islands
Marshall Islands
Micronesia
Midway Islands
Palau
Wake Island
Type C is supported in following regions:
Europe
Albania
Andorra
Armenia
Austria
Azerbaijan
Azores
Belarus
Belgium
Balearic Islands
Bosnia & Herzegovina
Bulgaria
Croatia
Czech Republic
Denmark
Estonia
Faroe Islands
Finland
France
Georgia
Germany
Greece
Hungary
Iceland
Italy
Kosovo
Latvia
Liechtenstein
Lithuania
Luxembourg
Macedonia
Madeira
Moldova
Monaco
Montenegro
Netherlands
Norway
Poland
Portugal
Romania
San Marino
Serbia
Slovakia
Slovenia
Spain
Sweden
Switzerland
Ukraine
Vatican City
North America
Bolivia
Greenland
Guadeloupe
Saint Barthelemy
South America
Chile
French Guiana
Netherlands Antilles
Paraguay
Peru
Suriname
Uruguay
Asia
Afghanistan
Bhutan
Burma
Cambodia
India
Indonesia
Iran
Jordan
Kazakhstan
Korea. North
Korea. South
Kyrgyzstan
Laos
Maldives
Mongolia
Nepal
Pakistan
Philippines
Russia
Syria
Sri Lanka
Tajikistan
Turkey
Turkmenistan
Uzbekistan
Vietnam
Africa
Algeria
Angola
Benin
Burkina Faso
Burundi
Cameroon
Canary Islands
Central Africa Republic
Cape Verde
Chad
Comoros
Congo Republic
Congo Democratic Rep
Djibouti
Egypt
Equatorial Guinea
Eritrea
Ethiopia
Gabon
Guinea
Guinea-Bissau
Ivory Coast
Libya
Madagascar
Mali. Republic of
Mauritius
Martinique
Mauritania
Mayotte
Morocco
Mozambique
Niger
Reunion
Rwanda
Sao Tome and Principe
Senegal
Somalia
Somaliland
Togo
Tunisia
Oceania
French Polynesia
New Caledonia
East Timor
Type G is supported in following regions:
Europe
Cyprus
Channel Islands
England
Gibraltar
Ireland
Isle Of Man
Malta
Northern Ireland
Scotland
United Kingdom
Wales
North America
Antigua & Barbuda
Dominica
Grenada
Saint Kitts-Nevis
Saint Lucia
Saint Vincent
South America
Asia
Bangladesh
Bahrain
Bhutan
Brunei
Burma
Hong Kong
Iraq
Kuwait
Lebanon
Macau
Malaysia
Maldives
Myanmar
Oman
Qatar
Saudi Arabia
Singapore
United Arab Emirates
Yemen
Africa
Gambia
Ghana
Kenya
Malawi
Mauritius
Nigeria
Saint Helena
Seychelles
Sierra Leone
Sudan
Tanzania
Uganda
Zambia
Zimbabwe
Type I is supported in following regions:
South America
Asia
China
Christmas Islands
Cocos Island
Oceania
Australia
Cook Islands
Fiji
Kiribati
Nauru
New Zealand
Papua New Guinea
Samoa
Solomon Islands
Tokelau
Tonga
Tuvalu
Vanuatu
Customer Reviews
Write a Review
Ask a Question
Filter Reviews:
Adapter
trip
cell phone
wife
countries
problem
children
sockets
charging
voltage
04/02/2020
James
United States
Customer service is wonderful
This was all I needed to travel to Australia. It also convert the voltage so didn't have to worry about the voltage fluctuation during my whole trip.
03/10/2020
Fernandez R.
India
One of The Best travel adapter
We used this travel adapter while travelling to different countries and purchased only this adapter. We had the perfect adapter for the countries we traveled. I personally bought this to use adapter for multiple use and not only for charging my cell phone. Having 4 USB was really good though as we all could use to charge cell phones so the problem for charging was solved and plus there were multiple sockets so we could use em reliably. My wife and my children really liked this. Definitely would purchase this again.
02/25/2020
Anonymous
United States
Worked perfectly without any problems
Worked perfectly without any problems
02/06/2020
Hannah C.
United States
For use in Europe mainly and Adapters included
This is useful for higher voltage items like a hair straightener but generally not necessary if you just have simple electronics. This would be primarily for travel to Europe with the two prong outlets, though it has adapters for other countries, the wall plug built in is the European standard.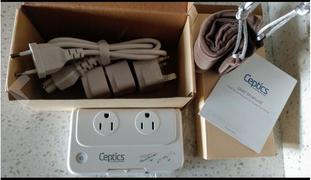 02/06/2020
Nells
United States
Don't fry your accessories anymore!!!
Perfect Voltage Converter! Bought this for Ukraine and it did the job. I was surprised to see that it came with different adapters for different countries. I guess I didn't catch that part in the description. It worked with my curling iron and straightener and had enough USB ports to charge my iPhone, Apple Watch, external battery and GoPro. It's small and compact and comes with a pouch to store. Don't regret this buy.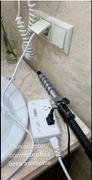 Not Sure Which is Right for You?
Be protected in any scenario with a World Travel Adapter Kit!
Learn More